Hey Hey!
As usual, it has been busy around our house lately. I've been finding some FANTASTIC deals this week in home decor that I thought I'd share with you. I'm usually a saver not a spender (which is why I love DIY!), and I really LOVE to find a good deal that I don't feel guilty about later.
I believe there is a time to throw your hard earned dollars at something though. And sometimes a whole string of those times happens at once and sometimes you go months without finding anything worth it. This was one of those months where I found great deals.
You have to be persistent with these tips when you are decorating your home on a budget. Like I said I'm a saver, so I usually try to keep money put away for these spur of them moment great deals. If you keep your eye open and don't settle for the items you aren't absolutely IN LOVE with, you will find great deals too! Keep searching and you'll find what you are looking for at an EXCELLENT price!
Last weekend my husband Joel and I went to an annual Anniversary sale at our local Wells Home Furnishings store. This makes the 3rd year we have gone and each year we wind up with an amazing deal! This year takes the cake though! I'll get to that in a minute.
Last year we purchased this awesome chair for $100. I bemoan the fact that they didn't have two often. It's just perfect! Matches everything, adds black to the room which you know I need in my life 😉 And it's super roomy and comfy. As a matter of fact, I'm curled up in it writing this post!
The year before last, we bought a white (yes, white, with three kids and 2 cats in the house!!) super chunky, slipper chair that we have in our bedroom. Sorry, I don't have a picture. It was also $100 and totally worth it! My husband and I both sit in it a few times a week while dressing and miraculously it's still spotless! And to be honest, sometimes it holds the laundry for me. But still, it was a great deal!
Last weekend, however, we scored HUGE when we bought this Boulton and Watt Sofa Table made by Thomasville!!!! I was over the moon excited when my husband got to it first. And I love him a little more for it 😉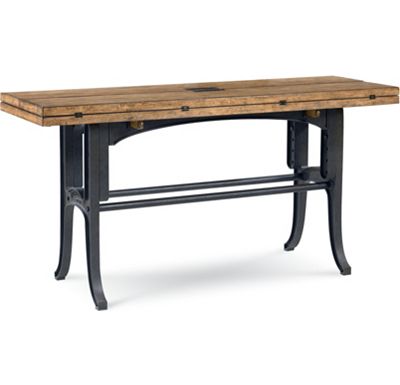 This table is so versatile! The cast iron bottom is adjustable, so it can be used in virtually ANY room in our house. Desk? Sure, why not! Dining Table? Heck yeah!! Extra tall sofa table? Check! The nice guys at Wells loaded it into our Ford Edge while all the other jealous customers stared on and asked questions about this gorgeous table. Seriously they were TOTES JELLY and I was all MUAHAHAHAHA! It's ALLL MINE!! Funny story, out hatch wouldn't close but we only live about 2 miles from the store. So I leaned through the back and held this sucker in our car so I wouldn't have to pay $50 in delivery fees. It was only a little embarrassing. Then we carried it in our house and it weighs a million pounds.
Guess how much we paid for this table that retails for $1500+? Hmmm, any guesses? We paid a whopping $98. No, I didn't forget a digit! LESS THAN $100!!!!!!!! <— I'm still excited, obviously. I can't wait to show you guys where we are currently using it!
Next up are these two Threshold Counter Height chairs for my dining room table!
They are normally $100 each but they FINALLY (after me watching and yearning for them for 2 years!) went on sale at Target and the stars aligned with an awesome $15 off $75 Home Purchase coupon. Yes, please! But then, womp womp, the ones I wanted were out of stock. That's how it happens sometimes. I checked throughout the duration of the sale and they were still out. Then the day after the sale was over, back in stock. Annoying right? Oh well, they were 20% off and I found a $10 off $50 coupon code. Booyahhh! Two awesome dining room chairs for $150!
And last but not least, I bought two of these Room Essentials Tripod Table Lamps on clearance at Target.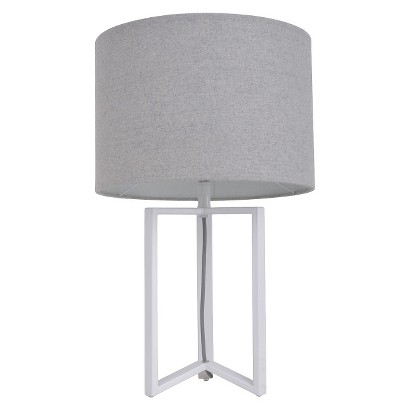 I put them in our Master bedroom (which needs a makeover, stat!). They were $17 each, which is an awesome deal for the base and shade!
So, as you can see, I'm awesome at finding great deals. Ha, I'm just kidding! ANYONE can find great Home Decor/Furniture deals if you know what you want, keep looking, be persistent and patient plus don't settle for less than true love! Homes don't come together over night. Each home can tell a story, like the ones I told above, and your home will feel much more welcoming and collected if you let things happen naturally over time.
Have you made any purchases for your home lately that you waited patiently for? Made any big purchases you regretted later? (Been there, done that, had the sofa to prove it)